~~~~~~~~~~~~~~~~~~~~~~~~~~~~~~~~~~~~~~~~~~~~~~~
Oakwood Saints and Sinners Cemetery Tour IS cancelled for 2020. We will see you there in 2021!
~~~~~~~~~~~~~~~~~~~~~~~~~~~~~~~~~~~~~~~~~~~~~~~~~~~~~~~~~~~~~~~~~~~~~~~~~~~~~~~~~~~~~~~~~~~~~~~~~~~~~~~~~~~~~~
We have been assessing the prospects for our fall annual Saints and Sinners Tour at Oakwood Cemetery, monitoring conditions and trends, taking special note of public health advisements. It is very difficult to gauge what the conditions will be in the next few weeks, much less the next few months. The North Fort Worth Historical Society, in partnership with Oakwood Cemetery, devotes months to the planning of the event, plus carries the financial investment.
With abundance of caution for your safety and the safety of our presenters and volunteers, the NFWHS Board regretfully announce that this year's Saints and Sinners Tour has been cancelled due to the covid-19 pandemic. This decision was a very difficult one and not taken in haste. Our hope is that in October 2021, we will return for our 15th year of a "walk under magnificent oaks on graveled paths to meet many of the famous and infamous characters of early Fort Worth as they tell the stories of their lives and times."
To our many visitors each year, thank you for your support and we will miss our time together. In the meantime, please stay safe and healthy.
~~~~~~~~~~~~~~~~~~~~~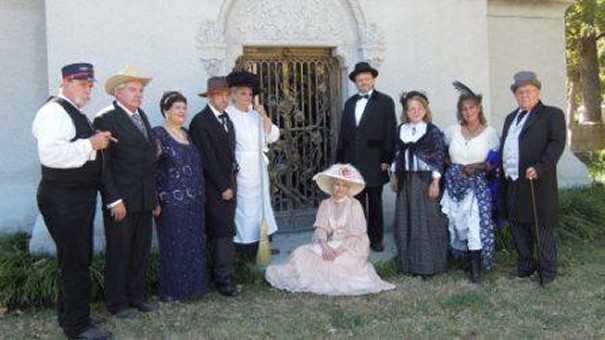 The 9th Annual Saints and Sinners Tour